M a r k e t N e w s
Dow invests in Mr. Green Africa, a Kenyan company that recycles plastic.
Posted on : Tuesday , 25th January 2022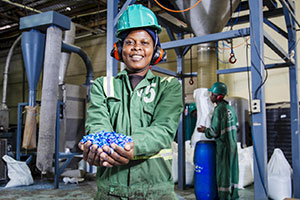 Dow Chemical is a worldwide corporation. Mr. Green Africa will improve its plastic waste management systems (sorting, collection, and recycling) in Kenya and other African nations with this financing.
Dow Chemical, a developer of packaging solutions, is once again helping plastic trash recycling in Africa. Mr. Green Africa has received funding from the multinational based in Michigan. "This is Dow Chemical's first investment in Africa of its sort." "It's part of a Series B fundraising round," Dow Chemical said.
Mr. Green Africa, situated in Nairobi, Kenya, recycles plastic trash into goods that can be used again. Products that are offered to industrial clients with the intention of being used in a long-term manner. Mr. Green Africa's existing waste management systems will become more efficient in sorting, collecting, recycling, and repurposing plastic in new applications, according to Dow.
Dow's collaboration with Mr. Green Africa is part of the company's "Stop the Garbage" project, which seeks to collect, reuse, or recycle one million tonnes of plastic waste globally by 2030. Beginning in November 2019, the two companies' collaboration in Kenya will collect and reuse at least 30 tonnes of plastic garbage every two months.
Dow and Mr. Green Africa will work together over the next four years to collect and recycle 90,000 tonnes of plastic material in Kenya and other African nations to be determined. "We'll also produce more traceable, fair-trade, high-quality post-consumer recycled (PCR) goods that can be used to make new flexible plastic packaging," says Dow.
These projects will create direct work possibilities for roughly 200 young people on the continent, in addition to mitigating soil and water pollution. 5,000 waste pickers and over 250,000 consumers who will participate in source separation programmes will be affected by the steps taken.
Source : www.afrinews.co.ke