M a r k e t N e w s
Rwanda plant to recycle plastic into paving stones
Posted on : Tuesday , 25th January 2022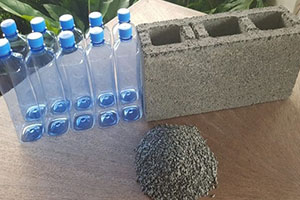 In Rwanda, a new project attempts to turn single-use plastics into paving stones. In Mageragere, Nyarugenge district, the garbage will be processed in a factory. The project is being funded by Prosper Muhirwa, a member of the Private Sector Federation (PSF).
The Rwanda Environment Management Authority (REMA) and the Private Sector Federation (PSF) forged a cooperation in June 2021 that is bearing dividends. One of the federation's members, Prosper Muhirwa, recently invested $3 million in a factory that recycles plastic garbage into paving stones. PET bottles, plastic straws, fork and knives, plastic bags, and plastic packing materials will all be handled at the facility. The proposed plant will be in Mageragere, Rwanda's Nyarugenge District.
"We intend to recycle plastics into pavers and blocks at a rate of 500 square metres each day," says the company. The primary goal is to protect the environment, provide inexpensive and weather-resistant homes for the community, and create sustainable and green jobs through plastic recycling, according to investor Prosper Muhirwa. Early in 2022, construction on the site is planned to begin.
The recycling operation in Mageragere will also aid in the reduction of plastic waste pollution. Ecosystems are being destroyed as a result of this phenomena. PSF intends to raise 690.6 million Rwandan francs (approximately 560,400 euros) towards REMA's project "Sustainable Management of Single-Use Plastics." The goal of the five-year project is to eradicate single-use plastic from Rwanda's landscape.
Source : www.afri20.co