M a r k e t N e w s
Entering the Dire Dawa Industrial Park in Ethiopia is Gulf Ingot FZC
Posted on : Friday , 26th August 2022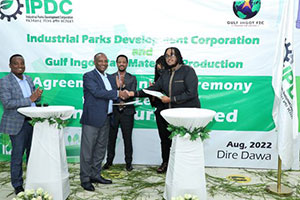 A agreement was struck for the production of packaging materials for soft drinks and water between Gulf Ingot FZC, a company with its headquarters in the United Arab Emirates and Industrial Parks Development Corporation (IPDC) of Ethiopia.
Local manufacturing firms can enter industrial parks and begin production thanks to the preparations undertaken by IPDC.
Shiferaw Solomon, the Industrial Parks Development Corporation's deputy chief executive officer, made this statement as he signed a contract with a new manufacturing firm that would operate in the Dire Dawa Industrial Park.
Mr. Shiferaw Solomon, deputy chief executive officer of Industrial Parks Development Corporation, said during the signing ceremony that the flow of investment, which had slowed down for a number of domestic and foreign reasons, is now back to where it was. He continued by saying that his company has completed the required preparations for nearby manufacturers to move into industrial parks and begin operations.
The deputy concluded by pointing out that the business that has agreed to begin manufacturing at Dire Dawa Industrial Park should significantly contribute to import substitution and currency preservation. He gave the assurance that their firm would always offer the required help.
The company will start production with US$ 5.2 million in funding. From its production base, which will be situated in Dire Dawa Industrial Park, it will supply its goods to domestic and worldwide markets. 139 people are anticipated to gain employment opportunities as a result. Additionally working in Kenya and Rwanda is Gulf Ingot FZC. There is room in the park for 135 investors. Additionally, it is predicted that when the park is fully functioning, it would provide work for more than 100,000 individuals.
Iosias Elias, the business development manager of Gulf Ingot FZC Company and the person who signed the agreement, acknowledged that his company was pleased to have the chance to produce in the industrial park and that they would work to begin production so that they could export their goods to both the local market and to Kenya and Tanzania.
Source : www.afritrendz.com