M a r k e t N e w s
Ramaphosa's Visit To Tanzania Aims At Deepening Of Existing Economic, Political, Cultural And Social Relations Between The Two Countries
Posted on : Wednesday , 4th September 2019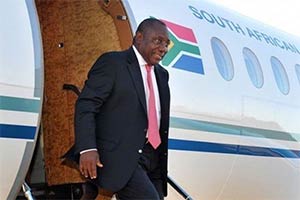 President Cyril Ramaphosa gave a two-day state visit to Tanzania on 14 and15 August 2019, at the invitation of President John Pombe Magufuli.
This was his first state visit since being elected President in May.
As part of his visit, Ramaphosa also lead the South African delegation to the 39th Southern African Development Community (SADC) Ordinary Summit of Heads of State and Government, held on 17-18 August.
According to International Relations and Cooperation minister Naledi Pandor , the state visit by the Ramaphosa aims at deepening of existing economic, political, cultural and social relations between the two countries.
In 2011, an agreement establishing the Bi-National Commission (BNC) between South Africa and Tanzania was signed.
The inaugural session of the BNC took place in Tanzania in 2017, and South Africa is likely to convene the next BNC, at an agreed mutual date.
In 2018, South African exports amounted to R5.8 billion, whereas imports from Tanzania amounted to R479 million.
South African exports to Tanzania are mainly in the areas of manufacturing, machinery, mechanical appliances, paper, rubber products, vehicles, iron, and steel, including services and technology.
Source : newzmart