M a r k e t N e w s
China's Weeco Recycling Opens New Plastic Recycling Plant in Kenya
Posted on : Wednesday , 29th May 2019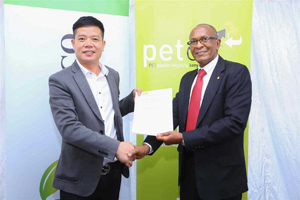 A China based recycling firm recently opened a new plastic waste recycling plant in eastern Kenya investing 4.5 billion shillings (US$ 45 million) to help curb environmental degradation.
Weeco Recycling Company, which processes 2,000 tons of PET bottles each month and recycles them into pellets and polyester fiber, announced the establishment of two plants in the East African country on Monday.
Besides the plant in the town of Athi River in eastern Kenya, Weeco is setting up another plant in the coastal region of Mombasa.
'We entered the Kenyan market to provide a lasting solution to the challenge posed by post-consumer PET bottles,' said Weeco Recycling Company Director Wang Zhangyin, about 30 km east of Nairobi, during the signing of the deal at Athi River.
Wang said the plants will enhance the standard of living for PET bottle collectors and suppliers every month, adding that the pellets produced will be exported to Weeco's parent company in China to be used in the manufacture of polyester fiber.
Weeco has also signed a partnership agreement with Kenya PET Recycling Company Ltd (PETCO Kenya), an industry body responsible for regulating post-consumer PET packaging management in the country.
The chairman of PETCO Kenya, John Waithaka, welcomed the partnership, saying that Weeco's initiative to recycle PET bottles is in line with PETCO's strategic plan as the world faces the challenge of 8 million tons of plastics entering the oceans each year.
Waithaka said the company also identified other recycling partners to reach the 2019 recycling target of 5,900 tons or 247 million bottles.
"PETCO will provide a price subsidy of 5 shillings ($ 0.05) per kilogram of PET bottles collected and recycled by Weeco beyond the current purchase price," he said.
'We plan to carry out, in conjunction with our partners, a national call for action to collect PET bottles, consumer awareness activities such as rolling out designated drop-off sites in different counties,' Waithaka said.
Source : Plasto Herald