M a r k e t N e w s
UIA rewards best investors
Posted on : Wednesday , 19th July 2017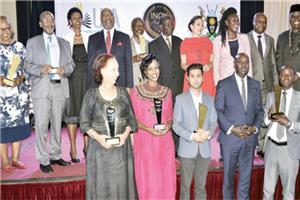 The Uganda Investment Authority (UIA) has for the last 24 years been recognising outstanding investors in the country.
The winners, over the years have included Rwenzori Highland Tea Co. Ltd, Ngege Ltd, Kabojja Secondary School, Hotel Africana, Van Zanten Uganda Ltd, MTN (U) Ltd, Century Bottling Company Ltd, Rene Industries and Kasese Cobalt Co. Ltd.
During the awards, investors who have successfully implemented and commissioned their business projects within a given period showcase their achievements.
The 2016 winners Gold award - Graphic Systems (U) Ltd
Over the last 20 years, the company has grown substantially, in terms of products and production volumes.
In 2016, the company invested in a new print technology, flexographic printing, the first of its kind on the Ugandan market, in order to widen its offering to clients for current and future market demand in Uganda and the East African market.
It created employment for about 93 Ugandans and saved foreign exchange outflow by responding to the regional market demand for high technology print and packaging products.
Silver award - BMK House
For the last three decades, the business empire has expanded its interests into hospitality, manufacturing, property development and construction in Uganda, Kenya, Tanzania, Rwanda, Zambia and China.
In 2016, the Group invested in their latest development: a 12-storey commercial building, with 1,200 square meters of space per floor, a total of 7,200 sq.ms of rentable office space and 86 furnished apartments on Wampewo Avenue in Central Kampala.
It responded to the Government's call to increase domestic investment in the hotel and accommodation services, invested over $27m (about sh97b) in the commercial house project and created employment for 272 Ugandans.
Source : http://www.newvision.co.ug