M a r k e t N e w s
Africa's plastic & printing industry is reporting high growth
Posted on : Wednesday , 16th August 2017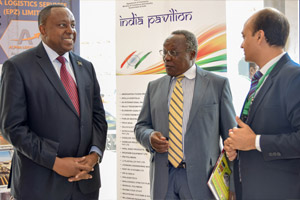 Africa has become a key player in the international plastics and packaging industry where plastic goods and expertise are in high demand. Africa's plastic industry is reporting high growth rates as demand for plastic goods and machinery in Africa registers a steady growth.

Africa's overall economy is currently on a growth path. Many countries in Africa have experienced several years of strong economic growth (ranging from 8-12% in 2009) and it is now one of the fastest growing markets for plastic goods and machinery in the world. A growing economy, a population of over 680 million and the potential for significant long-term growth has made the African continent a priority market for many international companies. Some of the areas identified as opportunities for international companies include plastics production machinery (PME) as well as plastics material resins (PMR). Not to mention the high demand for plastic goods that has been growing throughout Africa.

The growing African economy is spurring growth in the continent's plastics industry.

Tanzania has emerged as a major importer of plastic goods and machinery in recent times. Traders and wholesalers in Tanzania have been importing a wide variety of plastic goods and machinery including moulds for plastics, GI Pipes, Dies & Moulds for Plastic Films, Plastic Packaging material, Kitchen Plastic Products, Pipes & Fittings – to name a few. The sheer size of the market makes Tanzania an attractive market in Africa for the plastics industry:

Recently, an Indian and Mauritian joint venture in Ethiopia started production of fuel from waste plastics using new technology. The company has built a factory on 15,000 square meters in Akaki/Sebeta sub-city and the fuels, which can be produced from waste plastics, are being used for key areas that would, and is, attracting investors to the country.

This upward trend has been welcomed by the best global construction equipment manufacturing players, as they ready themselves for the return of Africa's premier and most trusted Plastic, Printing and Packaging tradeshow.

A market full of opportunity will be underlined by The PPPExpo 2017 Tanzania, where more than 110 exhibitors from 20 countries will showcase their latest wares to thousands of trade buyers and decision makers from throughout the Middle East, Africa, and further afield.

Taking place from 22 to 24 at The Mlimani Conference Center, the annual three-day event will arrive with the biggest aftermarket brands on-board, spread over 15 product categories, to name a few, Plastics, Rubber, Packaging Equipment and Printing Equipment.

With more than 100 exhibitors combined, Rubber and Packaging Equipment and Printing Equipment comprise the largest portion of PPPExpo Tanzania, and features global stalwarts to name a few Dai an Industry Joint Stock Company- Vietnam, Bandera- Italy, IGT- Netherlands.

Some of the exhibitors shared their experience of last year's PPPExpo...

Chayce Strydom Marketing Director - Modico Africa, South Africa said "It was pleasing to see potential customers from other countries like Kenya and Uganda which, additionally than Tanzania, are very important markets for our company. All in all, a very positive response from the visitors at the show towards what we have to offer."

Khurshed Sajid Export Executive - Falcon Pack, UAE said, "Participating at PPPEXPO gave us a significant opportunity to further explore the East African market, underpin commitment to our customers and discuss their new requirements, in addition, to introduce our new technologies and solutions and generate new business leads."

Rupen Humad, Chief Executive Officer - Perfect Colourants and Plastics Pvt. ltd. , India said "Tanzania represents one of the strongest growing economies in East Africa. Our main objectives in this event are to meet face to face with partners and understand the requirements as well as to have a close look at their set up. I believe that arrangements, organization and facilities are very satisfactory; the quality of the visitors is outstanding as they are professionals and they know exactly what they are looking for."

The Expo is to create a one stop shop for all PPP materials as part of efforts to promote Tanzania's building industry.

It is also aimed at creating opportunities for industry players to share experiences and network to facilitate the growth and development of the PPP industry.

It is organized by Expogroup in collaboration with the East African Chamber of Commerce, Industry and Agriculture.

PPP Expo provides PPP industry with an unrivalled environment to meet a lot of your buyers all in one place. By attending, you have the chance to meet with exhibitors, check out new developments and keep a close eye on your competition. In addition, you can try out new products, attend demonstrations and compare features and prices.

There will be over 20 expert seminars and workshops covering many topics. Education is essential for any successful company or professional. Without learning new techniques, strategies and information, growth cannot happen. In today's business climate everything is rapidly changing. Seminars and workshops will keep you updated and allow you the chance to speak directly with the experts.

Do not miss out on this unrivalled opportunity to network with industry peers and discuss and define the future of the East African PPP industry, be there to be part of the change.
Source : Expogr.com